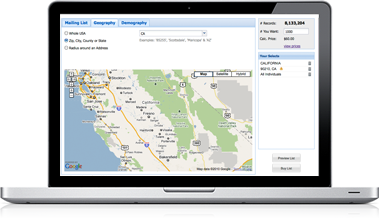 The best mailing list tool - period
What the widget does

DataWidget enables your users to buy targeted direct mailing lists. Real time counts and list previewing in the browser: the perfect list prospecting tool.

Leading database technology

100's of millions of rows of Consumer and Business data provided by Experian® and Equifax®.

Plug and play

Simply plug and play the DataWidget into your website.

Fast and easy to use

We focus on usability. Users love the DataWidget because it's fast and easy to refine counts and do research in real-time. Sell mailing lists with the DataWidget.

Make instant margins

Lists are sold through your website at your retail prices and purchased from us at wholesale prices. Instantly make money from data sales.

Zero setup costs

The DataWidget is free to install, with no contracts and no commitments.

Who loves us?

Anyone wanting to sell mailing lists through their website.
Call us on 866 306 8674 or email us your enquiry
"
LeadsPlease and their Data Widget is hands down the most elegant, easy-to-use list acquisition tool in the market today. If you need to give your site users the ability to purchase lists online, look no further than the Data Widget."